The Gypsum Association (GA), in partnership with Divert NS, in Nova Scotia, Canada, is pleased to announce its support for Dalhousie University Phase II Research exploring the viability of using construction and demolition (C&D) waste gypsum in concrete. Led by Pedram Sadeghian, PhD, PEng, Associate Professor and Canada Research Chair in Sustainable Infrastructure at Dalhousie's Centre for Innovation in Infrastructure (CII) in the Department of Civil and Resource Engineering, Phase I project outcomes already have been shared in the prestigious Journal of Cleaner Production.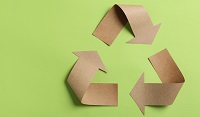 Incorporating powdered recycled gypsum in concrete mixes reduces the carbon dioxide emissions associated with concrete by minimizing the amount of cement needed. The result is a more sustainable solution that simultaneously helps to keep waste gypsum board out of landfills. Gypsum is commonly used in cement in small percentages; however, the Dalhousie research demonstrated that using gypsum as a supplementary cementing material in combination with fly ash performed well as partial replacement for cement in concrete.
Phase II research will take place over two years. During that time, the durability of concrete containing gypsum powder recycled from waste drywall will be the primary focus.
"We are very pleased to support research that shows promise in improving numerous environmental outcomes," says GA Executive Director Stephen H. Meima. "The gypsum industry is committed to landfill diversion of C&D gypsum panel waste and Professor Sadeghian's work demonstrates that waste gypsum panels may have value beyond their service life as interior surfaces."