Education for Code Officials & Building Inspectors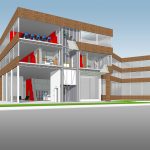 Specification, Installation, and Use of Special Performance Gypsum Panels
An ICC Continuing Education Program provided by the Gypsum Association (Provider Number 1338)
ICC credit for this course is .10 CEUs in the specialty "Building." (Course Number 27776)
Understanding GA-216-2021 Application and Finishing of Gypsum Panel Products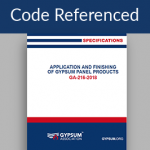 An ICC Continuing Education Program provided by the Gypsum Association (Provider Number 1338)
ICC credit for this course is .10 CEUs in the specialty "Building." (Course Number 23240)
Understanding the GA-600 Fire Resistance and Sound Control Design Manual.
An ICC Continuing Education Program provided by the Gypsum Association (Provider Number 1338)
ICC credit for this course is .20 CEUs in the specialty "Fire." (Course Number 8599)
The Gypsum Association is registered as a Preferred Provider within the International Code Council (ICC) Preferred Provider Program (PPP). You will find it helpful to have a copy of the current edition of the Gypsum Association's Fire Resistance and Sound Control Design Manual available as a reference as you complete the course. If you do not have a current edition, purchase one through the Gypsum Association Bookstore.
A grade of 80% or better is required for credit or a Certificate of Completion. After successful completion of the course, email name and professional affiliation to shines@gypsum.org. You will receive an ICC Certificate of Completion by return email.
These courses are not intended to promote or sell any specific product and should not be construed or interpreted to be an approval or endorsement by ICC of any construction material or any method or manner of handling, using, distributing, or dealing in any material or project.