Special Applications (Preview)
Floating Interior Angles
In wood-frame construction, the floating angle method of application can be used to minimize the effects of truss uplift and the possibility of fastener popping in areas adjacent to wall and ceiling intersections.
The floating angle method is outlined in Section 4.9 of GA-216.
Special clips may be used to create a floating angle. Floating angles should not be used where fire-ratings or shear values are required.
Two types of floating angles may be incorporated into a project.
The most common floating angle is the wall-ceiling intersection angle. In this method, fasteners along the perimeter of the ceiling and the top edge of the panel applied to the wall are held back from the panel intersection point. The specific hold-back distance depends on the type of fastener being used and the application method employed and is defined in Section 4.9.2. of GA-216.
Figure 5 and 6, below, illustrate ceiling-wall intersections.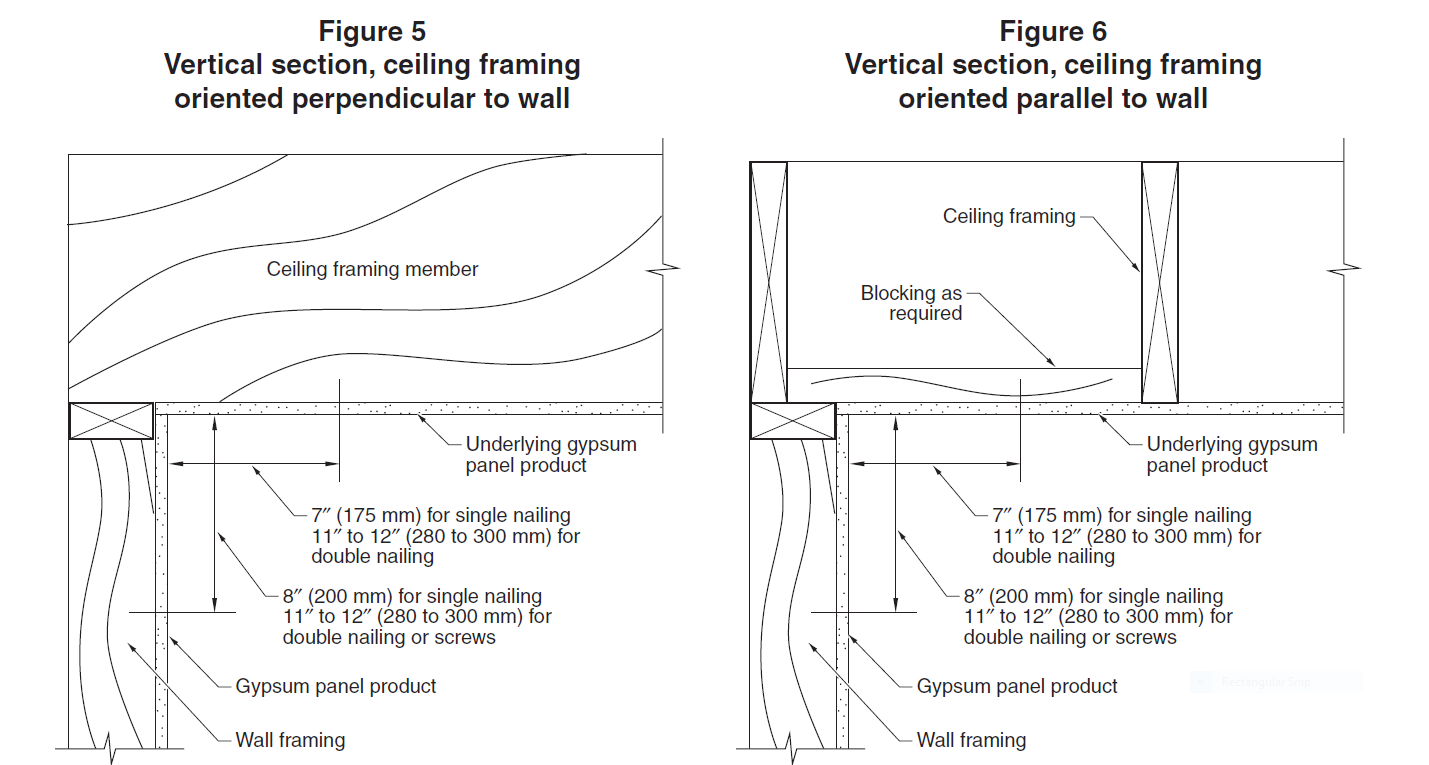 Figure 7, below, displays the application method for an interior corner floating angle. Note that, unlike the wall-ceiling intersection floating angle, only the fastener that is closest to the corner on the underlying panel is eliminated. The overlapping panel is installed firmly against the underlying panel and is used to hold it in place.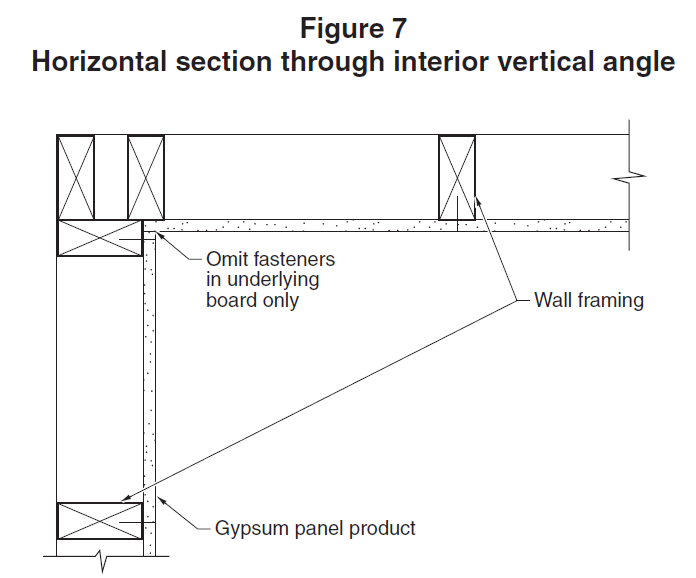 Water-Resistant Gypsum Panels
Model building codes have restrictions on the use of water-resistant gypsum panels in wet areas. Model building code regulations should be consulted prior to the application of water-resistant gypsum panel products. Gypsum panel product manufacturers will have recommendations for appropriate products for use in wet areas and as a base for tile in wet areas.
In areas to receive tile, gypsum panel products should be attached with nails or screws spaced not more than 8 inches on center. Adhesive only gypsum panel application shall not be used as a basis for tile.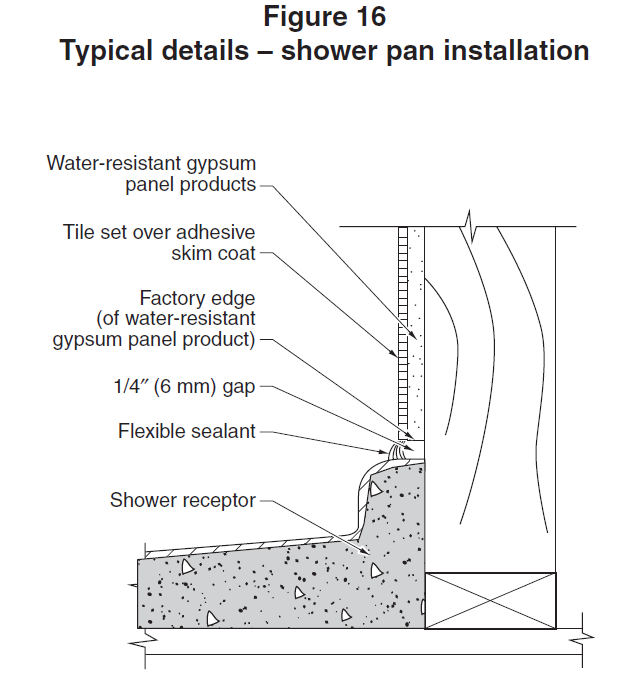 See Section 14 "Application of Gypsum Panel Products to Receive Adhesively Applied Ceramic or Plastic Wall Tile or Plastic Finished Wall Panels of" GA-216-2021, for more information. Appendix A.2 also contains important details on these types of applications.
Masonry, Concrete, or Brick Walls
Only interior above grade masonry, concrete, or brick walls are acceptable substrates for direct application of adhesive-applied gypsum panels. Framing members must be installed when gypsum panels are installed to below-grade masonry substrates.
Flat Wall Insulating Concrete Form (ICF) Systems
Recommendations for the application of gypsum panel products to ICF systems follow general provisions outlined elsewhere; however, Section 10 of GA-216-2021 "Application of Gypsum Panel Products to Flat Wall Insulating Concrete Form (ICF) Systems" provides  important specifications, particularly related to the cross-tie flanges used in these systems.

Existing Interior Walls and Ceilings
Provided existing surfaces are in sound condition and on an even plane, panels can be applied to walls and ceilings. Where more than 50 percent of the wall or ceiling surface has been removed or is not in acceptable condition, the entire surface should be removed and gypsum panel products applied as if for new construction.
Panels can also be directly applied to existing surfaces using adhesive. When this method is chosen, the surface should be tested to determine that the adhesive bond to the existing surface will be adequate. Consult Section 11 "Application of Gypsum Panel Products over Existing Interior Walls and Ceilings" for pertinent recommendations including a suggested methodology for testing adequate adhesive bonding.